Eleven Reflections
on September
2021 DIGITAL PRODUCTION!
​
​
Written & Directed by Andrea Assaf
​
Video Design by Eva Auster
​
Performed by: Andrea Assaf, Lubana Al Quntar, Eylem Basaldi, April Centrone, and Dora Arreola
Eleven Reflections on September is a poetry/spoken word, multimedia performance on Arab American experience, Wars on/of Terror, and "the constant, quiet rain of death amidst beauty" that each autumn brings in a post-9/11 world. This production is based on the series of poems Andrea Assaf has been writing since 2001, spanning the fall of the towers, the on-going wars, and the current revolutions and conflicts sweeping through the Arab world. Aesthetically, the poems explore the disintegration of language in the face of violence, prejudice, and unspeakable horror; as such, they progress from lyrical to abstract and broken. The annual witnessing of autumn leaves becomes a metaphor for the fallen–soldiers and civilians … This multi-disciplinary project includes performances with interactive media design and live music; community dialogues; visual arts exhibits; open mics, panels and opportunities for action through partnerships with Iraq Veterans Against the War and other peace organizations.
​
Notable venues have included the 2016 National Asian American Theatre Festival at Oregon Shakespeare Festival (OSF); The Kennedy Center Millennium Stage, La Mama ETC, and The Apollo Soundstage as part of the 2015 Women of the World (WOW) Festival; Centro Cultural Tijuana (CECUT), Mexico, and the University of South Florida (USF) as part of the 2014 THIS Bridge series; The Straz Center for the Performing Arts, The Carpetbag Theatre, and Pangea World Theater, which commissioned the project as part of their 2011 Alternate Visions Series. Works-in-progress readings were also performed at The Bowery Poetry Festival, Hedgebrook, and the Grotowski Institute as part of the 2009 Zero Budget Festival.
In 2021, we will re-create the show as a large-scale, community-based, devised performance directed by Andrea Assaf, engaging Middle Eastern/North African (MENA) and Muslim artists and allies from across San Antonio, Texas. Commissioned by The Carver Community Cultural Center, we hope this version of the project, Eleven Reflections: San Antonio, will become a model for a replicable process. As more cities and communities engage, we hope to launch a rolling series, Eleven Reflections on the Nation, in conjunction with the upcoming 20th anniversary of 9/11.
​
If you'd like this project to engage YOUR community, please contact us!
Touring
October 2016 - 5th National Asian American Theater Conference & Festival @ OSF
---
Produced by the Consortium of Asian American Theatres & Artists (CAATA). Featuring Lubana Al Quntar and Eylem Basaldi.
---
August 11, 2016 @ Alternate ROOTS 40th Anniversary!
---
Featuring special guest dancer, S.T. Shimi, and introducing April Centrone on percussion.
---
September 15, 2015 @ The Kennedy Center Millennium Stage
---
Part of the Women's Voices Theatre Festival! With special guest vocalist, Jenny Luna.
---
June 14, 2015 @ the legendary Apollo Theater
---
As part of the WOW! Artists TakeOver, Women of the World Festival, in partnership with Hi-ARTS.
---
April 30-May 17, 2015 — NYC PREMIERE: La MaMa ETC
---
Three-week run at the historic La MaMa, First Floor Theatre, NYC, in partnership with HiArts. Featuring guest choreographer/dancer Donna Mejia, with post-show dialogues moderated by special guest artists including Heather Raffo, May Joseph, James Scruggs, and more.
---
November 20, 2021 - Eleven Reflections: San Antonio @ The Carver Community Cultural Center
---
Stay tuned for details! An all *NEW* devised theatre ensemble edition, coming soon!
---
MAY 1-11, 2021 - Eleven Reflections *DIGITAL PREMIERE* @ The Carver Cultural Center
---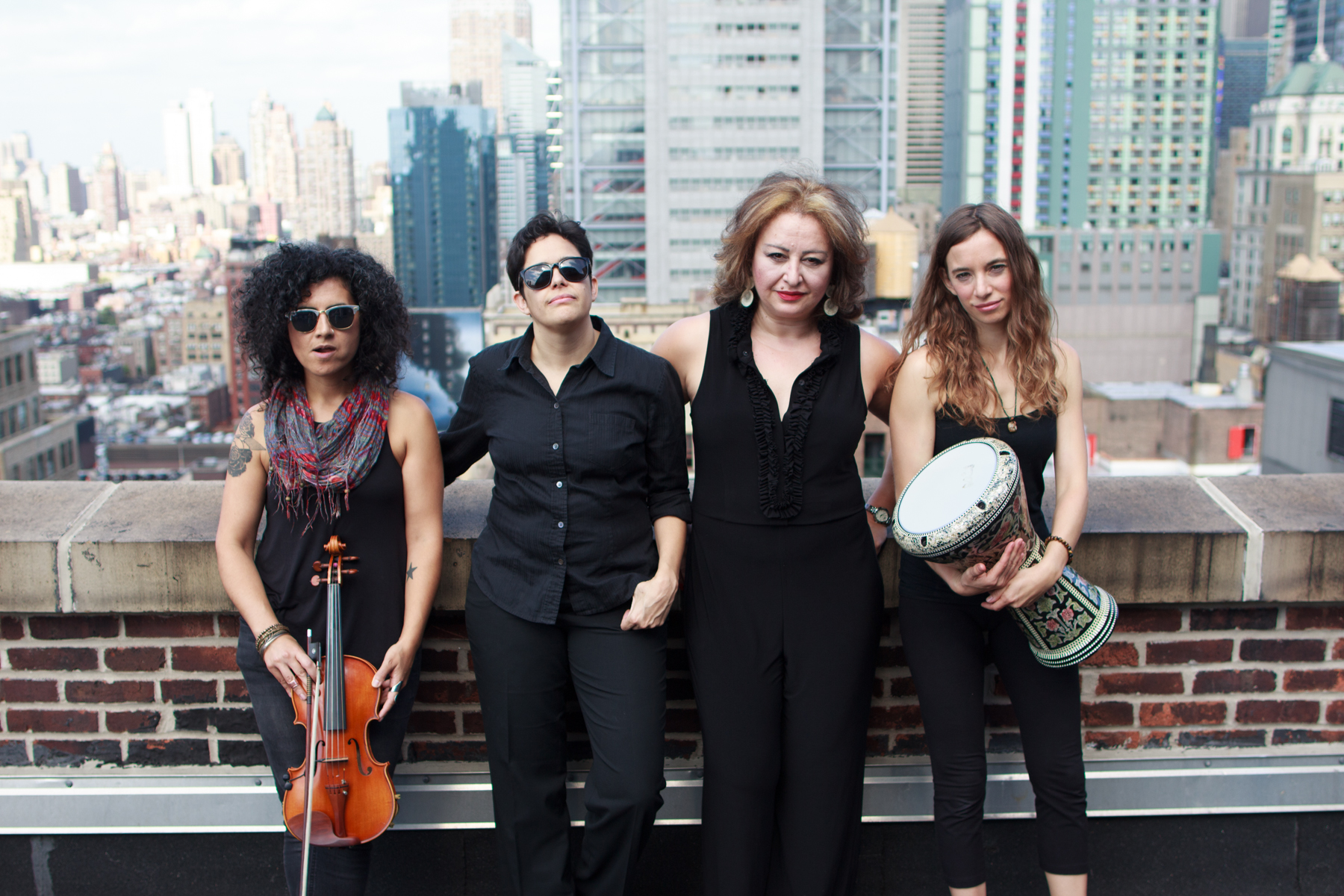 Eleven Reflections on September is back! Join us for the premiere of the *DIGITAL PRODUCTION* featuring poet & director Andrea Assaf, internationally renowned vocalist Lubana Al Quntar, violinist Eylem Basaldi, and percussionist April Centrone, with an *all new* digital design by video artist Eva Auster! The digital premiere will be livestreamed by The Carver Community Cultural Center on May 1st (8pm Central time), with a live interactive chat. You can also watch the video through May 11th, then join us for a post-show dialogue with the ensemble at Reflection Session #9. Ticket info coming soon! Check The Carver's website for ticket updates: https://thecarver.org/event/eleven-reflections-september-2021/
---
Fall 2014 - Concert Tour: Eleven Reflections on September
---
The Fall 2014 Concert Tour included performances at: - FeLiNo XII (Northwest Festival of Literature), CECUT, Mexico (Nov 2014) - "Global Fridays" at the Arab American National Museum, Dearborn MI (Sept 2014) - Barness Recital Hall, University of South Florida (USF, Sept 2014)
---
Fall 2011 - National Performance Network (NPN) & The Carpetbag Theatre
---
The Fall 2011 performance tour included: - Straz Center for the Performing Arts, Tampa FL, in conjunction with the National Performance Network (NPN) Annual Meeting (Dec 2011) & - The Carpetbag Theatre, Knoxville TN (Oct 2011)
---
2011 PREMIERE @ Pangea World Theatre
---
Eleven Reflections on September was originally commissioned by & premiered at Pangea World Theater's 2011 Alternate Visions Festival, supported in part by the Princess Grace Foundation-USA Theater Fellowship program, the National Performance Network (NPN) Performance Residency program, and United States Artists.
---
Work-in-Progress: Grotowski Institute, Bowery Poetry Club, Hedgebrook & more!
---
Early readings & work-in-progress performances of Eleven Reflections on September were featured at CECUT (Mexico 2010); the Zero Budget Festival, organized by the WorkCenter of Jerzy Grotowski and Thomas Richards (Wroclaw, Poland, November 2009); the Bowery Poetry Club in NYC (October 2007); and the Augusta Savage Gallery at the University of Massachusetts Fine Arts Center (April 2007). Excerpts and work-in-progress showings have also been performed at DIWAN Forum for the Arts (CUNY 2011); the BAAD! Ass Women's Festival (Bronx Academy of Arts & Dance, 2011); the RAWI Conference (Ann Arbor, MI 2010); the Alternate ROOTS Annual Meeting (2008); and Hedgebrook's NYC alumnae gathering (2007). Some poems from this series have been translated and published in English in Mizna (USA) and Scarf Magazine (UK); and in Spanish translation in Mexico.
---
---