THIS Bridge
Arab, Middle Eastern & Muslim Artists Series
SPECIAL ONLINE EVENT:
Friday, August 21, 7:30 PM EDT

​

PROGRAM OVERVIEW:

Art2Action, in partnership with the University of South Florida (USF), was one of 6 grantees in the nation awarded a "Building Bridges: Campus Community Engagement" grant from the Association of Performing Arts Presenters (APAP) in its inaugural round (2014-16). Our Building Bridges program introduced students, partners and audiences to the great diversity of Muslim and Arab identities, cultures and aesthetics, by presenting a series of (mostly) women performers and artists in multiple disciplines, over a two-year period. Our title, THIS Bridge: Arab, Middle Eastern & Muslim Artists, references seminal writings in women of color feminism (This Bridge Called My Back and later This Bridge We Call Home, as well as Colonize THIS! Young Women of Color on Today's Feminism), and locates the self-representation of contemporary Arab and Muslim women artists within that historical discourse. Guest artists in the presenting series each spend a full week in Tampa, on campus and in the community. Artist residencies include performances, film screenings, exhibits, class visits and workshops, Festival appearances, facilitated dialogues, academic lectures and panels to engage students across an array of departments, institutes, and student associations.

Lebanese American theatre artist, Andrea Assaf, serves as Artist-in-Residence and guest faculty with the USF School of Theatre & Dance, and lead curator for the program. For the presenting series, Art2Action co-curates a series of residencies with artists who demonstrate artistic excellence across a variety of aesthetics and disciplines. The goals of this series are to educate, provoke, surprise, move, and inspire. The inclusion of artists with both traditional and complex identities works to dispel stereotypes, counter mainstream media images and Arab-Muslim conflation, and stimulate transformation of attitudes, views and relationships across communities. In alignment with Art2Action's mission, artistic presentations are always followed by opportunities for academic discourse and intra-community dialogue about gender, including contemporary Arab and Muslim feminisms, identity, and U.S. policy.

Partnering departments and units have included: The School of Theatre and Dance, Anthropology, Communications, English, Government & International Affairs, The Humanities Institute, The Institute on Black Life, Women's & Gender Studies, World Languages Arabic classes, The School of Art & Art History, The School of Music, The Institute for Research in Art/Contemporary Art Museum (CAM), and USF World's Center for Strategic & Diplomatic Studies. Collaborating student associations include the Arab Cultural Association (ACA), the Muslim Student Association (MSA), and many more. Community partners include the Arab American Community Center (AACC), which produces annual Arab Festivals in Tampa and Orlando.
Featured Artists & Projects
Archival pages of residencies & projects included in this series COMING SOON!
Please see photos and videos below.
Press
Inside Arts: Building Bridges Together (APAP Preconference 2014 digital edition), with cover featuring Art2Action artist Aida Shahghesemi in Eleven Reflections on September at USF:
http://digital-editions.todaymediacustom.com/apap/inside-arts/2014-preconference/#p=1
Creative Loafing: "The Laugh Track – Who's Bringing the Funny" (including Negin Farsad, by Michael Murillo, August 27, 2014)
https://www.cltampa.com/arts-entertainment/article/20758592/the-laugh-tract-whos-bringing-the-funny
Creative Loafing: "World-renowned muralist Aya Tarek tags USF" (by Caitlin Albritton, September 30, 2015) http://cltampa.com/artbreaker/archives/2015/09/30/world-renowned-muralist-aya-tarek-tags-usf#.VoR341LBtlU
Creative Loafing Theatre Preview: 9 Parts of Desire at USF (by Julie Garisto, 11/10/15) http://cltampa.com/artbreaker/archives/2015/11/10/theater-preview-9-parts-of-desire-at-usf#.VoRkhlLBtlW
The Oracle: "9 Parts of Desire tackles reality of war" (by Breanne Williams, 11/11/15) http://www.usforacle.com/news/view.php/1014398/9-Parts-of-Desire-tackles-reality-of-war
The Tampa Tribune: "Play Promotes Cultural Diplomacy in a Time of Conflict" (by Brad Stager, November 4, 2015)
​
Past Events
What happens at a Paint Club?
---
Whether your event is online or at a venue with friends, have a drink and some food and create your own masterpiece. You do not need to bring anything with you, we provide all materials. If you are painting from home, you can purchase a painters pack from our shop: https://www.thepaintclub.co.uk/shop For our paint and sip events at public venues lease arrive 10 minutes early to find a seat, order your drinks and get set up. The events last about 2.5 hours and are run by professional artists who can provide you with hints and tips all night.
---
I've never painted before can I attend?
---
Our events are for everyone. You will receive full instruction from a friendly and helpful artist - so whether you have an art degree, haven't ever painted or want to get back into it, it's for you! The painting is done in sections and if you need to you can ask questions as you go.
---
What is included in the ticket price?
---
Real life events: All materials are included: canvas, easel, paints, pallet, brushes, paint pot and apron. You get to keep the canvas at the end of the night. Food and drink are not included in the ticket price unless specifically stated on the ticket. Online events: The ticket grants you access to our Facebook Live group to watch the painting session. Painting materials will need to be purchased separetly in our shop.
---
How do I book a space on a Paint Club (online and offline)?
---
All Paint Club events are ticketed and there is limited availability, tickets must be purchased in advance. All our events (online and offline) are listed here: https://www.thepaintclub.co.uk/book ​ Terms and Conditions: Please be aware tickets are Non-refundable and are only valid for the Paint Club event on the date listed on your ticket. We cannot transfer your ticket to future Paint Club events, in any circumstances.
---
Do you run online paint and sip classes?
---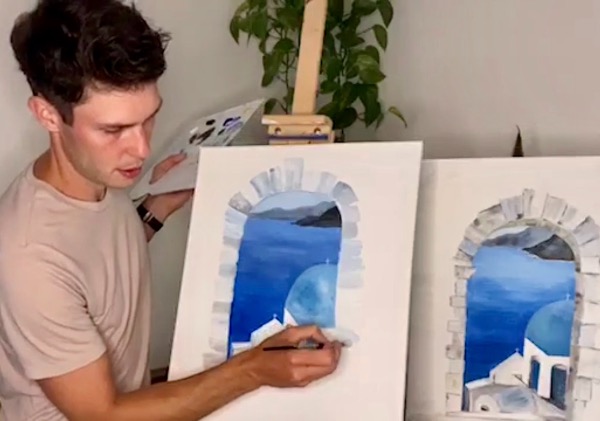 Yes we do! The Studio by The Paint Club is a private Facebook group where we host all of our online sessions. Anyone in the group can folliow along to any session they want and are welcome to share their creations with the community. Access to the group costs £10 for 1 month and can be purchased in our shop. If you want to host a private paint and sip party with friends or colleagues online; we can set you up with everything you need. Arrange a private paint party with us.
---
Do you do private art courses or painting lessons?
---
Yes! We do all sorts of events. Hen parties, birthday parties, family get togethers, corporate events and even weddings! We also offer all of our events online now too using Zoom, Google Meet, Teams, Webex and Facebook Live :) Arrange a private event with us. ​ We can help you source a venue, provide all the materials you need and set you up with a professional artist to run the event. It's all the fun of a usual Paint Club but tailored to your requirements.
---
Can I host my own private online painting party?
---
Of course! We will be happy to help organise everything you need to run an adult paint and sip party for your colleagues or for your friends and family.

We can send through all the painting materials, Zoom details and of course a professional and friendly artist to show you how to create a masterpiece.

All you need to do is let us know how many people want to take part and which painting you would like to do. Send us an email to get started: thepaintclub.co.uk/contact
---
---
This project is made possible in part by a grant from the Association of Performing Arts Presenters; Building Bridges: Campus Community Engagement Grants Program, a component of the Doris Duke Charitable Foundation and Doris Duke Foundation for Islamic Art.